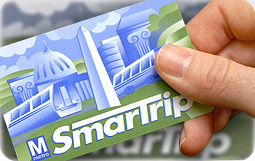 Metro's SmarTrip® card is a plastic, rechargeable card used to pay Metrorail and local bus system fares, including Fairfax Connector and RIBS buses. Once you purchase your first card, you can register it online where you can add value, Auto Reload, view balance, and report it as lost or stolen. The SmarTrip® card saves you money in addition to providing you with convenience and safety. The Washington Metropolitan Area Transit Authority (WMATA) website contains all of the details, including Deals & Discounts you will receive by showing your SmarTrip® card at participating museums and events around the DC, Maryland and Virginia service area.
You can purchase a SmarTrip® card at any Metrorail station, Reston-area Transit Store, Metro Sales office, Commuter Store, Retail Outlet, and online at the WMATA website. Reduced fare SmarTrip® cards are available for senior citizens and people with disabilities.
If you have questions or comments about SmarTrip®, please call 888-762-7874, 7 am - 8 pm Mon-Fri, or use the WMATA online contact form.