Capital Bikeshare Now in Reston
Beginning October 21, 2016, there are 17 Capital Bikeshare stations in Reston (9) and Tysons (8), all close to Silver Line Metro stations.
Bikeshare offers another way to travel in those parts of the county, while reducing car congestion and advancing our overall economic success plan. Bikeshare is designed for short, point-to-point transportation from one station to another. If you're new to Bikeshare, you can try the system with a $2 single-trip fare. These single 30-minute trip passes are available at any station kiosk (24-hour and 3-day passes are available at kiosks, too). 30-day passes and annual memberships can be purchased online at the Capital Bikeshare website.
There are three simple steps to access the bikes.  Videos (in both English and Spanish) near the bottom of this article explain how to use Capital Bikeshare.
Step 1: Visit a Bikeshare station and take a bike using your membership card or debit/credit card. Bikeshare is open 24/7 (except for extreme weather). Use Capital Bikeshare's interactive map to locate stations and check the real-time status of available bikes.
Step 2: Go where you need to go — but bring your own helmet, which is recommended for safety!

30 minutes of free ride time are included with each trip you take. So long as your trip ends in under 30 minutes, you will not pay an extra fee. For more details on pricing, visit capitalbikeshare.com/pricing

Step 3: Return the bike to any Bikeshare location.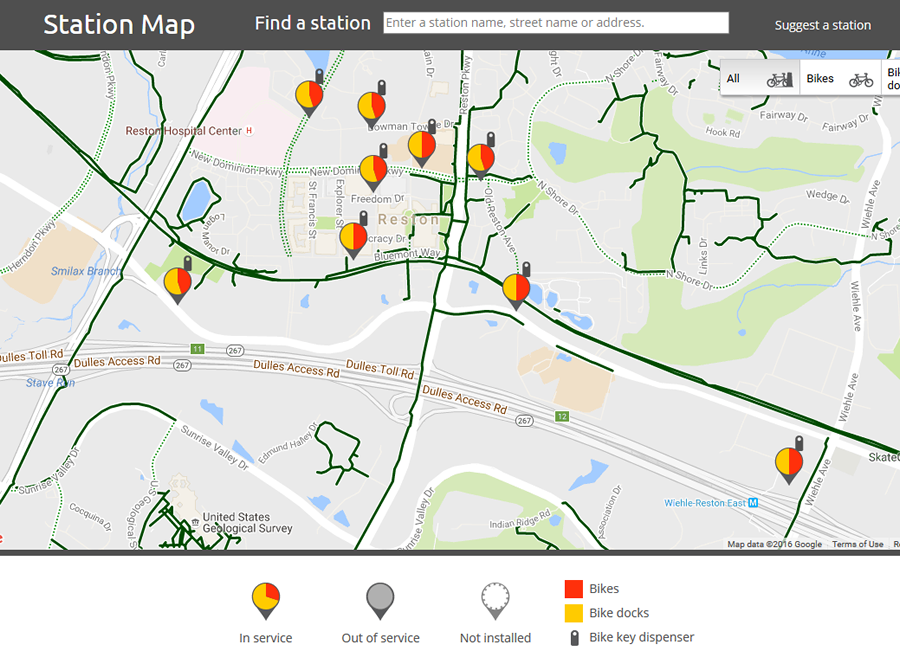 The following videos explain how the Capital Bikeshare system works.
English
Spanish
Additional information on safety and how Capital Bikeshare fits into Fairfax County's strategic Plan to Facilitate Economic Success can be found on the  Fairfax County Government News Center website.
Additional Resources: http://www.capitalbikeshare.com/